Mingtai LED720 basic model led surgical light use 48LEDS(main bulb)+96LEDS(spare bulb) independent LED illuminant (lamp cup is one main and three spare bulb structure), divided into multiple independent illuminant group; every lamp use double CPU control, every group of LED illuminant controlled by special circuit chip, any group failure will not affect the normal use of shadowless light. Mingtai manufacturer is professional manufacturer of operating light, surgery lamp, shadowless light, LED operation lamp, ceiling model operating light, economic surgical lamp.
Technical parameters MINGTAI LED720
Illuminance (lux) 160,000
Color Temperature (Kelvin) 4,300
Adjustable Color Temperature (Kelvin) (Optional) 3600-5600
Color Rendering Index (CRI) 96
Red Color Index (R9) 96
Light brightness control standard
Brightness control range 10-100%
Temp rise (Surgeon head) (℃) 0.5
Temp rise (surgical field) (℃) 2
Effective Focusing Depth (cm) 60-150
Total Irradiance Ee (W/m2) 530
Radiant Power Ee/ Ec (mW/m2lux) 3.3
Lighting Spot Size (mm) 100-260
Bulb Type LED
Average Bulb Life (hours) 60,000
Bulb Quantity (main bulb+ auxiliary bulb) 48LEDS+96LEDS
Depth of illumination L1+L2 (cm) 130
Power Consumption (W) 70
Height adjustment (cm) 118
Power Input 100-240VAC, 50/60Hz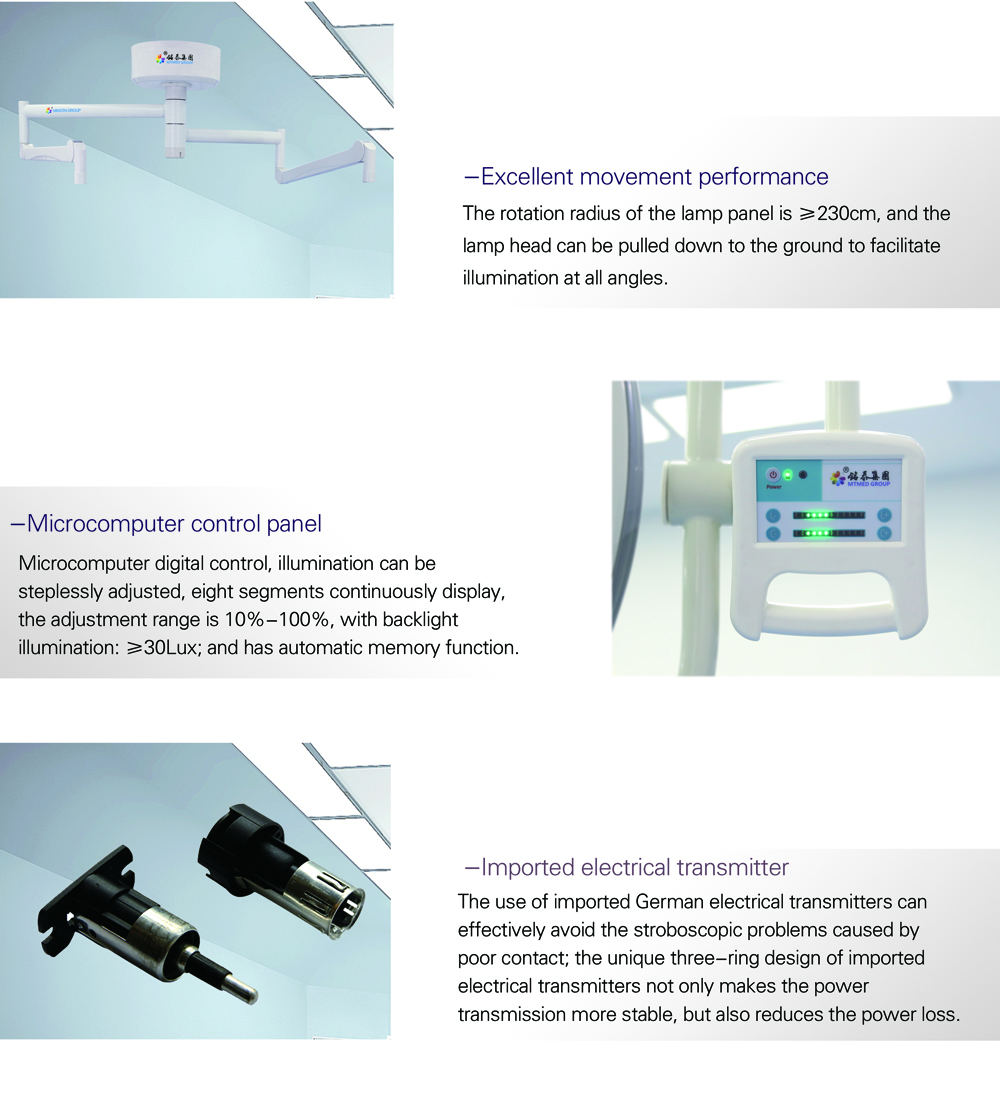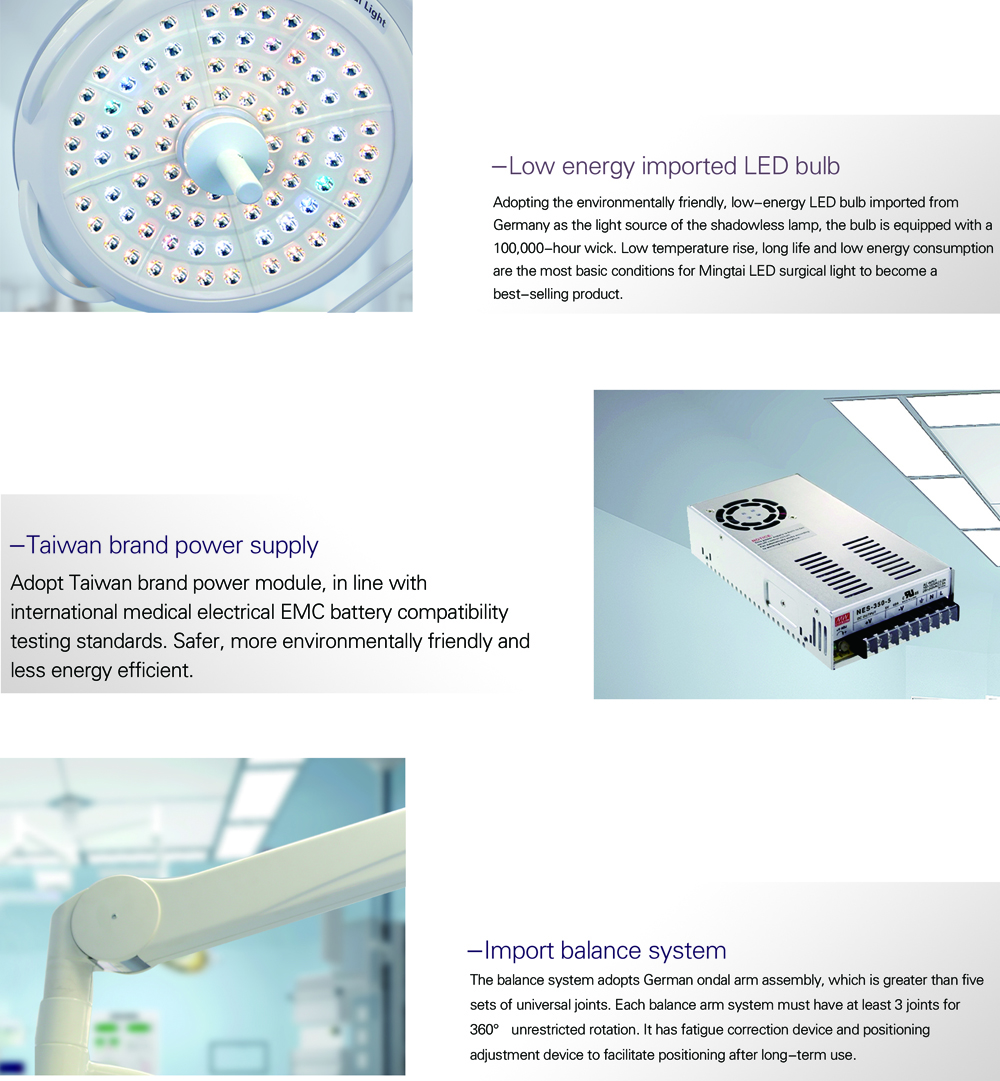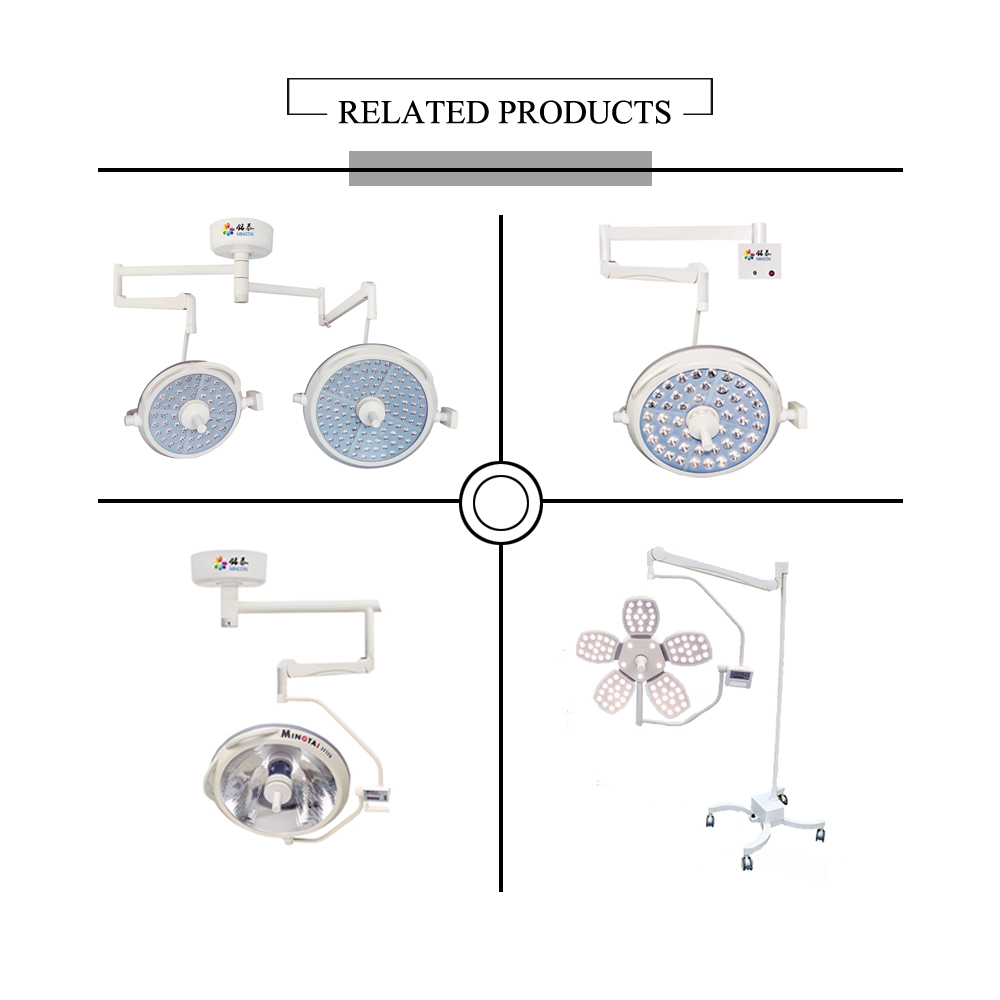 Shandong Mingtai Medical Equipment Group Co., Ltd is established in 2000 year, supporting operating room and ICU medical equipment. Since company established, continue to develop, keep making progress, let people enjoy the health future with better quality and service. Mingtai products get ISO13485, ISO9001, CE & SFDA certification. Mingtai company have many shadowless lamp, surgical table, ICU bed and medical bridge pendant patents. Mingtai brand series operating light, operating table, medical pendant, hospital bed and air disinfection equipment meet different distributor and customer`s different requirement.

PRODUCTOS POR GRUPO : Lámpara de funcionamiento > Luz sin sombra de tercera generación LED